Italian restaurant chain Zizzi is planning to add a new restaurant at New Street which is already a popular place for its string of café and restaurants.
Zizzi is thinking of opening its third Birmingham location in an abandoned cinema which was formerly the home of Regent and ABC in the last century. If the plan pushes through, this cinema could be given a new life as the latest Zizzi restaurant.
Azzuri Restaurants, the chain that is known for its Italian theme, which also operates the Ask chain, had unveiled new plans to transform the ground floor of the building into a Zizzi eatery with a seating capacity of 170. The structure has been given a grade II building classification.
Most recently, the foyer of this structure, located on the corner of Ethel Street and New Street, was being used as a casino amusement arcade. However, the arcade closed its doors in January 2013. It has remained unoccupied since then.
The new design for the structure includes internal seating for 132, a mezzanine to be used by the hotel staff, toilets and outdoor seating consisting of 18 tables and 36 chairs. This project is expected to employ 37 full and part-time employees.
If this plan is approved, this restaurant will become the fourth location for Zizzi in this area. This restaurant will join other Zizzi locations in the Mailbox, Harborne and Solihull. And due to its closeness to New Street station and the Colmore business district, this location could benefit from a high footfall.
But it would compete with its other sister restaurants such as Bella Italia, Wagamama and Ask. All three restaurants are located in New Street.
In a press statement that will accompany the application released by Walsingham Planning, the Buckinghamshire-based consultancy firm said: "Bringing the property back into gainful use is even more important in this instance because the building is listed."
"National planning policy emphasises the importance of keeping listed buildings in active use as this is the best way to ensure their long-term survival," continued the statement.
"The application proposal represents a significant financial investment in the building which has been vacant for over two years. The restaurant use would be appropriate for the listed building and give it a new lease of life," the press release added.
The structure was the subject of an article in the Birmingham Post published on the last week of May. It was included in the journal's 'Hidden Space' piece which discussed news of upcoming events that gives a glimpse behind the doors of some interesting buildings in the city.
The four-story structure was constructed in 1869 as a masonic hall. But in 1908, it was converted into the Theatre de Luxe.
In 1922, the theatre's name was changed to Regent and a major renovation was done in the structure expanding its seating capacity to 1,200.
Another major overhaul was done in 1961, where it became the ABC New Street until the building was closed in 1983, just after one year that it was awarded a Grade II listed status.
Its foyer was then transformed into an amusement arcade, while the upper floors of the theatre were left unused and eventually forgotten and deteriorated. However, the structure's office spaces were still being used by tenants.
Zizzi's new location will be the latest among a number of restaurant and bar unveiling in Birmingham city centre including that of Cosy Club in Bennetts Hill which was inaugurated last May, Lasan's Nosh & Quaff at 130 Colmore Row, and Gas Street Social at The Mailbox.
Zizzi's restaurants are favourite food stops because of their tasty dishes and great ambience. Their customer service is impeccable that is why people love going back to the place.
Some of the most delectable dishes that people love to eat in this restaurant are the following:
Bread + Nibbles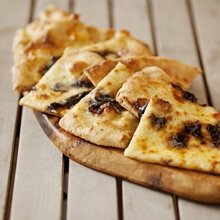 This include
Italian Bread Bucket V – Freshly baked focaccia bread & dough sticks from our pizza oven with olive oil & rosemary
Garlic Bread V – Brushed with garlic butter & rosemary
Garlic Bread with Mozzarella V & caramelised balsamic onions; Zizzi Olives V – Giant Nocellara & purple olives with thyme & chilli
Fava Pepe V – Basil broad bean chips & roquito pepper pearls.
Meat + Fish
These include
Spiedini Pollo – a Mediterranean hanging skewer of marinated roast chicken breast with red onions, courgettes & peppers. Served with Tuscan potatoes & a white wine & lemon sauce;
Spiedini Pescatore – a Mediterranean hanging skewer of oven roasted king prawns, salmon, sea bream, peppers & courgettes. Served with Tuscan potatoes & a white wine & lemon sauce.
Pollo Prosciutto – which consists of chicken breast wrapped in prosciutto ham & sage with a white wine sauce, Tuscan potatoes & green beans.