Uncle Maddio's Pizza Joint is a casual dining pizza chain and they also serve salads and Paninis since 2009. It has many franchises around the United States and is continuously growing.
Uncle Maddio's Pizza Joint Menu
Made-to-order pizza is made even better at Uncle Maddio's Pizza Joint because a customer gets to choose their type of crust, toppings, and sauce. Customers can also choose the kind of cheese, meat, and vegetables that will suit their taste. It is interesting to know that customers can wait and watch while their personalized pizza is being prepared and cooked because it only takes approximately six minutes.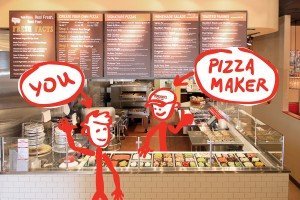 You may also choose from among their signature pizzas: BBQ Chicken (if you love grilled chicken in barbeque sauce), The Greek (blended in Greek dressing), Spicy Italian (with spicy Italian sausage), Chicken Club (with grilled chicken and bacon), The Big Max (with handmade meatballs), Buffalo Chicken (with grilled chicken tossed in spicy buffalo sauce), Simply Veggie (with tomato basil sauce and mushrooms), Jamaican Jerk (also with tomato basil sauce but with chicken instead of mushrooms), Portobello Pesto (with herb pesto sauce), Steak and Blue (in olive oil and balsamic glaze) and Southwest Baja (with tomato-basil sauce and grilled chicken).
You must also try their salads: Greek (if you want it with Greek dressing), Chicken Caesar (with Caesar dressing), Chopped (with blue cheese dressing), and Santa Fe (with chipotle ranch dressing). Side salads are also available if you want a small serving only. You may choose among the following: Caesar, Greek, and Garden salad.
If you want a sandwich added to your pizza and salad, they also offer toasted sandwiches: Italian (honey cured ham in tomato and Italian dressing), Tuscan Meatball (with meatballs and marinara sauce), Maddio's Steak (your choice of grilled chicken or Angus steak) and Turkey Bacon Cheddar (as the name implies, it has turkey, bacon and cheese in a tomato and chipotle ranch).
Uncle Maddio's Pizza Joint Guarantee
It is the perfect place where you can hang out with your family and friends. Here, you can make your very own pizza without getting your hands dirty because the friendly pizza maker will do it for you. Just wait for few minutes and it is all done – you can enjoy your personal pizza right away. You will not worry about the taste or the calories because you decide for yourself.
Another guarantee from Uncle Maddio's Pizza Joint is the freshness of everything they offer in the restaurant, from dough to mean to vegetables. Everything is freshly delivered every morning so you can enjoy your food without worrying about its freshness.
Lastly, when it comes to your customized pizza, you will experience a great tasting pizza of your choice for a very affordable price of $7.99 only for a three-topping pizza. Therefore, not only that you get to see how your pizza was prepared and cooked, the choice and control of the prize is also given to you because you can just add more dollars if you want to add more toppings of your choice.
Uncle Maddio's Pizza Joint Loyalty Program
The pizza chain has launched its Loyalty Love program for frequent visitors wherein every customer can earn points for every visit and the accumulated points (at least 100 gaining 10 points per visit) can make them eligible for a free entrée. A customer who wants to join this program needs to register online. Once you have reached the required points, you have the option to either claim your reward or accumulate more points for added rewards.