What's your definition of Pizza Heaven? It will probably be a pizza place where everyone can either make their own pizza, be presented with specialty pizzas or have unlimited access to all the pizza that they can eat. This is all true but for one who has gone to Stevi B's Pizza, they will only say that Pizza Heaven is Stevi B's because this is the Pizza Place where you can have all these options and more.
Create your Own Pizza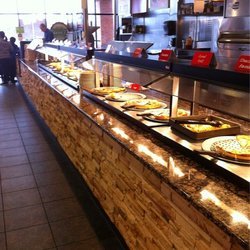 The first way of enjoying your time at Stevi B's is by creating your own pizza. You have full access to two kinds of crusts. You can either have a Traditional pizza crust or one that is Whole Wheat. For sauces, you can choose between Fresh Marinara, Alfredo or Garlic Butter. For your choice of cheese there's Mozzarella, Aged Cheddar and Jack Blends. Now for the meats you have Chicken, Bacon, Ground Beef, Ham, Italian Sausage, Pepperoni and Steak. And finally for the veggies, you put Black Olives, Diced Tomatoes, green peppers, Jalapenos, Mushrooms, Pineapples and Red Onions. One way of looking at Pizza Heaven is a place where you have a pizza oven with all of these ingredients in abundance and you are sentenced for all eternity to create the pizza you like whenever you felt hungry. The "all eternity" part will never happen but you will have all these possibilities for lunch or dinner at Stevi B's.
Specialty Pizzas
The second way to enjoy Stevi B's is by trying out their specialty pizzas. Stevi B's have created the most amazing innovations in pizza combinations turning American favorite meals into their pizza versions. Stevi B's have the likes of a Loaded Baked potato, Cheeseburger, Mac and Cheese plus many more. For limited time offer, the best thing going on at Stevi B's right now is the Barbecue Pulled Pork Pizza. Other specialty pizzas on the menu are the Chicken Fajita, BLT, Spinach Alfredo, Barbecue, Hawaiian, Hot Wing, Tomato Alfredo, the veggie, white Cheese, White cheese pepperoni, Supreme, taco. And fir the thin crust department you have the Chicken Pesto, Greek and the Margherita. All these special are great for dine-in and take-outs.
The Great Pizza Buffet
Now, Stevi B's complete restaurant name is The Ultimate Stevi B's Pizza Buffet because the buffet is what it's all about. The Create Your Own and Specialty Pizzas are great for take-outs but can you imagine sitting in the corner at Stevi B's and not going for round after round of all the pizza that you can fit in your belly with the pizza-loaded buffet table which everyone seems to be enjoying? The buffet table is not only filled with pizzas, they have salads, bread sticks, pastas and desserts there too.
And it's not just the volume of the pizza but the quality as well. Everyone is in for a treat with Stevi B's quality pizzas made from fresh hand-made dough that is mixed and wrestled every morning using the finest ingredients to turn them from scratch into the most tasty pizza crust you'll ever find using the original process and recipe that was crafted by Stevi B's founders. The pizzas are topped with 100% dairy cheese, fresh meats and veggies along with Stevi B's secret sauce.
The Ultimate Stevi B's Pizza Buffet boasts of volume, quality and the great amount of fun that goes into every visit to a Stevi B's pizza place. Stevi B's has created the festive mood of the October Fest in every outlet. It's more than just a restaurant but a place where all the pizza lovers can meet up to enjoy unlimited quality pizzas. Finally at last, if you want to check out similar Pizza buffet like Stevei B's, be sure to give CiCi's Pizza a try because they are also known to have quality and many variety of pizzas available for affordable price.