There is something about Japanese food that sets it apart from all others. It is not just the food but the preparation and how the food is being served to the customers. Japanese cooking is described by its genuine artistry and warm hospitality and this is exactly what you get when you dine at Sakura Japanese Steakhouse and Sushi Bar.
Before we even go to the sushi, let's talk about how your order is prepared and served. Your Japanese dining experience starts with the sitting arrangement. Guests are seated side by side on a communal bench that surrounds a Hibachi grilling station. The feeling is like you have been invited in an authentic Japanese home along with other guests and all of you are going to be served by the host. The chef approaches with all the ingredients; raw meat, fish, vegetables and all the exotic spices in a tray and heats up the grill for a Teppanyaki performance where all the guests around the sizzling grill will see how their orders are going to be cooked.
Chicken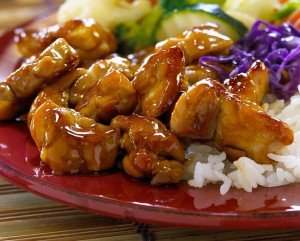 As soon as the oil is set on the grill, all the clinging and clanging starts as the chef does his culinary acrobatics with the ingredients being toss, turned and mixed while he bounces, twirls and juggles every cooking utensil he needs to use for the performance. Whether it's Chicken Teriyaki or Kastu, or whether your choice is Beef, Salmon, Prawn or Tofu, your chef will dazzle you and keep you captivated for the entire duration of the culinary performance. Sakura is actually one of the few places where you will be enjoying the wait. And wait until your food is served. With all the showmanship that went on, you will be in for a treat of a life time because the highlight of the whole show still boils down to the best tasting Japanese food on the planet. Every Teppanyaki order at Sakura is served hot, fresh, tasty and with a lot of oriental authenticity, warmth and class.
For the Hibachi selection, guests can choose anything from soft and sweet flavor of Teriyaki Chicken, the fill-to-the-brim Emperor Steak, oriental presentation of Filet Mignon, the fresh taste of Salmon, Scallop or Shrimp or, a combination of Filet Mignon and Chicken, Shrimp, Scallops and Salmon or, Chicken with Shrimp Scallops or Salmon.
Now, a Japanese restaurant will never be authentic if they don't serve sushi and in Sakura, there is always a sushi festival going on with mouth-watering sushi variations; Albacore, Ama-ebi, Crab Sticks, Ebi Shrimp, Ebi Tempura, Hamachi, Hokkigai, Hotategai, Ika, Ikura, Inari, Maguro, Masago, Saba, sake, Sha-ke, Tako, tamago, Tobiko, Unagi, Uni, Escolar and tai. That's 23 sushi flavors to choose from. If you are coming in a large group you can actually order every available sushi in the house and wouldn't that be a treat?
Sushi
Sushi and its preparation speak a lot about the Japanese culture. If you know how much time and effort is being spent to prepare a roll of sushi versus the amount of time to consume them, you will be asking; what for? But that's exactly it, that's exactly how Sakura values your time and effort for visiting their restaurant. It will take the whole afternoon to prepare the sushi you can finish in a few seconds. That how you are valued at Sakura.
If you can see yourself clipping the sushi with your chop sticks and dipping them in soy with a tiny pinch of wasabi to give it a little spice and placing that delight in your mouth, it is still a wonder why you can still sit there and just imagine when you can get in your car and drive over to the nearest Sakura Restaurant near you.