During the 13th century, Genghis Khan practically ruled the world. Though he was unable to conquer the whole world and only got as far as Russia, everyone who knew him or heard of his brutal conquests were scared of him. One can only imagine how he feasted every night from his victories; how the Mongolian horde placed all possible meats and vegetables on their shields and roasted everything on the open fire. Every meal must have been grand, bold and daring. Now, do you know that you can re-create this dining experience every time you eat at HuHot Mongolian Grill?
If you want the freedom to create your own stir-fry concoctions given all the possible ingredients imaginable for an unlimited number of servings then, HuHot Mongolian Grill is where you should be. Imagine these ingredients; Beef, Chicken, Halibut, Crab, Mild sausage, Salmon, Seafood Medley, Swordfish, Calamari, Cod, Hot sausage, Mahi-Mahi, Pork,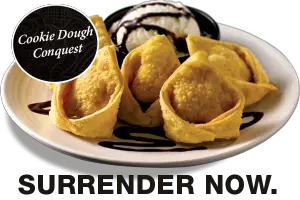 Scallops, Shrimp and Tilapia. Imagine being able to put all of these in on bowl like a hungry Mongolian and devouring them all the same time. Whoa!
You can eat all of these meats with Chinese Noodles, White Rice, Pad Thai noodles and Yakisoba Noodles. Now, you don't have to try them all at once. Remember, you can mix up as many bowls you like so you can just keep coming over to the counter and try your favorite meat with rice and noodles.
For vegetables to mix in, your choices are Asparagus, Bamboo Shoots, Black beans, cabbage, Celery, Green beans, Jalapenos, Mushrooms, Peas, baby Corn, Bean Sprouts, Broccoli, Carrots, Cilantro, Green Peppers, Mandarin Oranges, Onions, Pineapple, Red Potatoes, Spinach, Tomatoes, Yellow Squash, Snow peas, Tofu, Water Chestnuts and Zucchini.
Now imagine what flavors you can whip up with these sauces and ingredients; Bekter's Ginger, Burn-Your-Village barbecue, Five Village Fire Szechuan, Garlic Chili sauce, Ginger Broth, Khan's Favorite, Kung Pao-Yow, Lime juice, Nomad's Green Curry, Black Thai Peanut sauce, Feed the Hordes Hoisin, Garlic broth, Garlic Oil, Hot Chili Oil, Khan's Revenge, Lemon juice, Mongol Mustard, Not So Sweet and Sour, Pillager's Red Curry, Sesame Oil, Soy Sauce, Samurai Teriyaki, Sherry and Sweet Chili Sauce.
HuHot is practically the biggest kitchen in the world with all of these ingredients for your Mongolian Bowl delight. The only place where you can have so much variety of ingredients would be in a grocery but the grocery staff won't cook for you.
At HuHot, you are able to provide yourself the opportunity to fill yourself up to the brim with the unlimited number of Mongolian Bowls you can create with concoctions that can only happen in your wildest dreams. You can create a bowl that is fire-breathing hot and spicy or you can make it as sweet as candy. It is all up to you and nobody will question your mixtures. The only thing the chef will ask is how you would like your food to be cooked. Do you like it well-done, medium rare or whatever?
Everyone who comes in a HuHot is a recognized chef who is only expected to satisfy himself; his taste and particularly his curiosity. With an unlimited variety of ingredients available in front of you, you will be able to create a bowl that will fit your every desire and personality and that is what everyone loves about HuHot. It's the place where you can be free as a bird and be powerful as Genghis Khan himself. With all the different cultures he has conquered, it is only expected that he has every available ingredient to make his every meal as fun and filling as possible. And now, it's your turn to be the conqueror of the world at HuHot.