Being one of the most popular barbeque chains in America, Famous Dave's has perfected the barbeque flavor of meat: pork, beef and chicken. The owner, Dave Anderson started out small but because of his determination and knowledge about the secrets of a great barbeque, he became successful and his foods became famous.
Dine In and To-Go Menu
Once you see their menu, you will know from the pictures that you are about to taste some pretty delicious food. Start with the Appetizers. With several choices, better to pick Dave's Sampler Platter so you get to have an idea of the taste of different barbeque they offer, It has chicken tenders, rib tips, catfish fingers and many more. You can even choose a sauce that you think will suit your taste buds.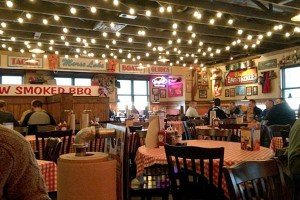 It's the St. Louis-Style Spareribs that makes Famous Dave's Barbecue a very famous barbeque restaurant. With its secret blends of spices and flavor, you can expect a great tasting and crispy spareribs. Now, if you want it classic, you have several meat selections as well and all these are served with sidings, sauces, and bread: Chopped pork, Rib Tips, Beef Brisket, Chicken Tenders, Roasted chicken and a lot more.   They also offer Barbeque Combos and the most famous is the Classic Combo wherein you can select any two kinds of meat except for the ribs.
They also offer Beef Brisket Burgers. The ultimate pleasure that you can achieve from their meals is also available in burgers. Imagine the famous barbeque served with melting cheese, bacon, and special sauce.
Family To-Go is very tempting as well. If you want a delicious meal to serve to your visitors, family and friends, but you do not have time to prepare them, pick your choice. A variety of choices is available from chopped pork, spareribs, sausages, and even beverages. Thus, it will give you the convenience and the preparation is worry free.
Feast and Catering
If you have a small celebration with your friends or family, you can try Famous Dave's Feasts. You can have an All-American BBQ Feast that can serve 4-5 people; you can have a Feast for Two that is good for 2-3 people and Feast For One if you want to enjoy a big serving with a variety of food in your plate.
If you need a reliable caterer for your special events like weddings, corporate and school events, regardless of the size, you can avail of their Catering services. You also have a choice of what service you would like to take. They have Delivery and Set Up service, wherein they can deliver your ordered food and they will be the one to set it up for a stress-free feast. They also offer a Full Service if you want every detail covered by them from the extravagant food to set-up to professional serving and cleaning. Lastly, you can opt to just pick-up your order. With their catering services, you can be sure that the food you have on your feast is delicious and sumptuous. Be it your Big Day, Game Day or Business Day, they make sure that you are happy and satisfied with their service because they are committed to do it.
Famous Dave's also serve desserts, Kid's Meal, salads, soups, sandwiches and sidings. Next time that you are craving for some barbeque ribs, pick-up your phone or check their website so you will have an idea of what to order. Bring your family and friends so they too can sample the famous barbecues at Famous Dave's.