There are too many Tex-Mex restaurants all across the Unites States that it is almost impossible to tell each one apart except for on restaurant that manages to be different. We are talking about Chuy's. If you are going to check the menu there is nothing different. You will only notice the big difference when your order reaches your table and make your first bite.
Freshly hand-Rolled Tortillas for every Customer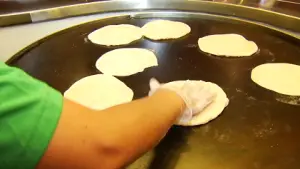 Chuy's tortillas are freshly hand-rolled daily. One of the most noticeable differences between Chuy's and other Mexican restaurant is in the freshness and the texture of the tortilla they are serving. When you enter a Chuy's, your tortilla is probably not made yet. Their tortilla experts tirelessly roll tortillas all day long and this makes a lot difference. You will immediately notice this on your very first bite. The tortilla doesn't break and it retains the right amount of saltiness and a bit of sweetness that stands out even with all the ingredients and sauces. As the first establishment to bring the blue corn tortilla to Central Texas, Chuy's has maintained the advantage of this pioneering move by serving the best and freshest tortillas in the whole of Texas.
Fresh Ingredients All Day Long
Chuy's ingredients are made from scratch every day. The vegetable come in fresh every morning and are carefully handpicked to be sure that they only serve the freshest and crunchiest greens. The Salsa Fresca is made every hour from fresh tomatoes and Guacamole are made in small batches all day long. Now what is the difference between fresh made food and the ones that are prepared and come out from the can? The difference is everything from the way it looks, the way it smells, the way it tastes to the way it feels in your mouth. Fresh food for ne is so much juicier that makes the tastes animated. "Animated' is the perfect word that describes it because we are so much accustomed to eating ready-made food that the fresh ingredients feel a bit abnormal in the most positive way. When you have a taco or burrito at Chuy's' you will immediately recognize this animated taste from that time long ago when your mama used to prepare you food fresh from your garden.
Best tasting Green Chili Peppers
Another distinguishable feature of Chuy's is their Green Chili. Very few people know that Chuy's green chili comes from a particular place in New Mexico where the climate and soil is perfect for the cultivation of green chili peppers. The place is Hatch, New Mexico and they are not keeping it a secret. So why isn't everybody getting their supply of green chili peppers from this place? The answer is very simple. Very few establishments are really after providing you with the best. With a little effort everyone could be including high quality green chili but they're not. That's why it is always better to go to Chuy's.
10 Unique Sauces
Chuy's is always about giving you a unique experience. You have to go to a Chuy's restaurant and try any of their 10 sauce inventions. They range from the mild Tomatillo to the very spicy Hatch Green Chile sauce. Each flavor has its own unique character and will fit every type of person. Visit a Chuy's store and check what fits your taste buds.
Freshly Squeezed Limes
Lastly, Chuy's also strives to serve the best drinks. For this, the bartenders over at Chuy's come in very early in the morning to hand-squeeze limes for your Chuy's Margarita. Why, because they want it not to be just an ordinary margarita but the best one here is.
Chuy's believes that there is no secret at being unique and special;. It just requires a lot of extra effort. You don't have to be an Einstein to figure this out. You just have to be dedicated.