While many 16-year old young men are busy with their academics, sports and girlfriends, Flynn McGarry will be opening his first restaurant. Yes, you read that right – Flynn will be the head chef at his own restaurant, neither a server in the front lines nor a dishwasher in the kitchen.
Not Exactly a Newbie
Flynn is not a newbie in the restaurant industry despite his young age either. He has been hosting his own exclusive supper club – known as Eureka in honor of the street where his family used to live on – since he was just 11 years old in his family's dining room. His progressive American cuisine, as he calls it, is as much valued for its time-consuming, labor-intensive steps as for its mouth-watering, thought-inducing flavors and textures.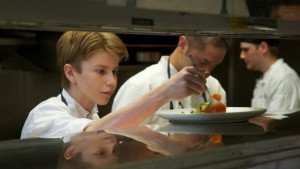 The bottom line: His culinary skills are impressive even among his older counterparts. His new restaurant, Eureka, may well make its diners say, "Eureka!" indeed, just as the members of his exclusive supper club did during their sit-down dinners.
Eureka will open in the posh West Village neighborhood of New York City. After all, when you are a chef prodigy, you deserve and demand the best location.
Signature and Odd Dishes
But Eureka will still have a pop-up feel with a twist – three days in a week, Flynn will prepare a 14-course tasting menu that will include his signature dishes and gourmet oddities. His signature dish – peanut Ritz crackers with sour cherry compote and foie gras terrine – may seem simple to prepare, but like most of his creations, it is time-consuming. He says that the ridges on each cracker are made with a toothpick.
He also has gourmet oddities that adventurous food lovers will soon consider as a staple on their plates. A must-try is the seawater-brined sea urchin complemented by coffee-pickled carrots and carrot cremeaux.
People who have participated in one of his home-based exclusive supper club pay over a hundred dollars per plate for the privilege. In one dinner attended by actors, producers and lawyers, each person paid $160 for the privilege of dining on dishes and desserts that took a total of eight hours to prepare.
Diners who cannot afford the $160 price tag always have the option of more affordable establishments like Outback Steakhouse and Pappadeaux Seafood Kitchen. Just be sure to set realistic expectations although the food is just as filling.
Diners enjoyed beef wellington with beets enhanced by a mushroom duxelle and beet greens before being enveloped in puff pastry; the dish was presented on a plate with a smear of creamed sorrel, reduced ember-roasted beet juice, beet bordelaise sauce, and smoked, glazed date. Flynn's guests also snacked on puffed trout skin followed by blanched asparagus tips, which were wrapped in asparagus gelee with St. John's wort garnishing.
Does the menu sound complicated? Yes, it is but the time, effort and skill poured into each dish are well worth the praises that come from many of the country's food experts. Flynn has been praised for his clean flavors with each ingredient elevated to its highest form.
Flynn also has other chefs in his kitchen. For example, in one of his supper club dinners, Huy Nguyen and Josh Graves, executive sous chef and pastry chef, respectively, at Faith & Flower, helped him out. Nguyen created the kale puree for the sea snail and Graves made the rolls but Flynn remains in charge of his kitchen.
Flynn is a handsome albeit small and slender young man with light freckles on his face and thick auburn hair. He has a cool, calm and collected aura about him, which is a must in the literal and figurative heat of the kitchen, although he also appears self-conscious at times. This is not surprising with the level of attention his culinary skills command, not to mention that his father, a professional photographer, regularly takes photos while he is at work.
Eureka may be Flynn's first restaurant but it is certainly not his first foray into satisfying the discriminating palate of sophisticated food lovers. He may be entering the mainstream restaurant industry with high expectations but his fans have great faith that the culinary prodigy will deliver, even exceed expectations.
If his successful supper club is any indication, Flynn has every right to be confident about his newest venture. Besides, he has plenty of high-profile experiences, too, including apprenticeships in many of the country's best restaurants, even cooking during White House Easter Egg roll event.