Buca Di Beppo offers an authentic Italian menu and atmosphere that everybody can enjoy. Once you enter any of their restaurants, you will notice the Italian tradition all over the place. When Planet Hollywood International, Inc. purchased them in 2008, it became even more popular and opened more and more locations all over the country. They encourage people to celebrate intimate family events with them because the ambiance is very family oriented and friendly. Nevertheless, you can also enjoy the welcoming ambiance with your friends and colleagues here.
Buca Di Beppo's Style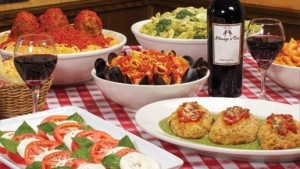 Lunch menus are available in single serving size while the Dinner menus are all served in family style – big enough to share with your family as if you are at home. Since it is an Italian restaurant, you can expect an excellent tasting pasta and pizza. They also offer Italian bread, salad, and side dishes. If you are celebrating a special event or occasion, you may also try the Party Pans or the Italian Feast Packages. Actually, they offer hosting of parties of different kinds. If you avail of any of their packages, you can expect a convenient and worry-free event. They will help you organize a memorable event – be it small or large gatherings. You are also guaranteed a different kind of experience – Italian style – that your invites will surely enjoy.
If you have small gatherings at home, you may also contact Buca Di Beppo restaurant for special arrangement for gatherings. Just like having the event at the restaurant, you can also expect a stress-free event, especially that you are assured that the food you serve is specially prepared by a famous Italian restaurant.
Buca Di Beppo's Banquet Rooms
Now this is something you ought to see. The banquet rooms have the following themes: Pope, Wine, Poster, and Chef's table.
Catholics will be very happy to eat in a Pope room where there is a large Pope Table with a lazy susan. It is a round table with decorations with the Pope's face on it. Since the Pope is the head of the Vatican City – Italy's capital – Pope and his representations make the ambiance fit the Italian style restaurant. Some occasions that can be celebrated on this room are first communion, Baptism, and other exclusive family affairs. The ambiance makes the guests feel their closeness to each other.
The Wine Room is for the Vino Enthusiast. It is amazing to see different kinds of wine display in a banquet room like this. A cozy feel for your date is perfect in this room.
If you like to see classic pictures, posters, decorations and other details, Poster Room is for you. The feel is completed with Mediterranean lights and designs that make every family gathering an enjoyable one. The poster decoration on the wall and ceilings are very entertaining. It is but amazing to see vintage posters that even our grandparents will be interested to see.
Lastly, the Chef's table. If you want to get a feel of a real chef's kitchen, this is the place for you. It is an awesome experience to see a real chef preparing your food. It is interesting to see their special techniques in cooking, chopping, baking, and other kitchen activities.