The Old Spaghetti Factory is a family-owned company which is known for serving great tasting spaghetti for several decades now. They have locations all over the world, including the US, Canada, Germany, and Japan.
A Great Dining Experience
Every Old Spaghetti Factory location says it all. With the very meticulous decors, you will feel the coziness and its welcoming aura. You will be amazed at the great service and even greater menu. Every decor and interior makes you feel at home. Although it is an Italian-inspired restaurant chain, it offers other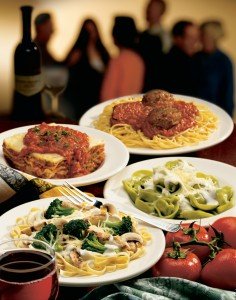 enjoyable treats depending on the location. They have friendly menus that cater to every taste, even those who are on a strict diet.
The Menu
You can bring your family to this friendly restaurant. They have set menus for kids, seniors, and for those who want gluten friendly foods – they all have it here. They offer a complete meal that every pasta lover will surely enjoy.
Both Lunch and Dinner menus have pasta classics with your choice of great tasting sauces like Marinara, Mushroom, Mizithra and many more. Different meals like Lasagna, Chicken Parmigiana, and Fettuccine Alfredo are also available. They also have salads, sandwiches, Paninis, and soups.
Their Kid's Menu is offered to kids 12 years old and below. A complete meal, which includes pasta, salad, and beverage, is deliciously prepared. Kids have a variety of choices of pasta and sauces, enough for a not so big tummy. Most children enjoy the Cotton Candy Limeade. It is a beverage with cotton candy syrup and is decorated with real cotton candy!
If you are a parent or grandparent, age 55 and up, then you'll love the Old Spaghettie Factory. Their Senior Menu offers a complete meal prepared with good nutrition in mind. Aside from pasta, bread, soup, salad, ice cream, and your choice of beverage is available.
The Gluten Friendly Menu is available to customers who have concerns and restrictions on their diet. When you order a gluten friendly menu, make sure to specify some modifications as needed. You may also talk to the Manager of the branch to make sure that your choice of food and your specific concerns are carefully followed and to avoid contamination with other food. Also, since it is specially prepared for you, expect that it is not pre-made. You will have to wait for a longer period for preparation than usual, but you can expect a hearty treat once it is served to you.
Please note that the availability of some menus may vary depending on the location. It is still best to contact the branch or check their website for the availability. Prices of the branches may also differ among each other.
The Mizithra – Cheese and Browned Butter Pasta
If you have not yet done so, try The Old Spaghetti House's best pasta – the Mizithra. It is a traditional Greek recipe that is enjoyed in this restaurant. They have perfected this delightful treat with imported ingredients. Definitely, your dining experience will not be complete without you trying this mouthwatering Cheese and Butter pasta. Some even say that it is the best pasta that they ever tasted and it is what makes their visit a memorable one. There substitute recipes in that you will find online, but many agree that the original Mizithra is far way better than these substitutes. The original recipe is unchanged and cannot be copied easily, even by cheese lovers today. It is best to visit the original and get the most delightful pasta treat you will ever experience.