Another feather has just been added to Blaze Fast-Fired Pizza's cap as it was awarded an enviable spot in the list of "Top 100 Movers and Shaker" in the country. A recognition initiated by FastCasual.com, a website on the rapidly growing segment of the restaurant industry, it placed Blaze at the number 2 spot, just behind Panera Bread, an equally popular fast casual restaurant and café in the US and Canada.
Ranking on the list is determined by a number of criteria such as innovation, company growth, and social responsibility. As the biggest and most innovating fast casual artisanal pizza chain in the United States, Blaze Fast management is grateful and pleased with the honor of being able to land the list. It is even happier to have earned the second highest spot. The creators of the list see the passion of the chain to remain a cut above the rest, which allows it to gain more loyal customers as it continues to work on its country-wide expansion.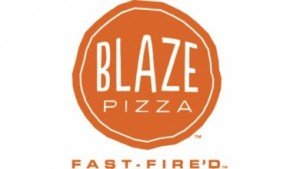 Blaze pizza considers itself to be an ultra-modern pizza joint that strives to provide a unique dining experience to its guests not just by offering a pizza fare wholly different than that offered in traditional pizza fast food joints, but also providing an atmosphere that's uniquely fast casual. In other words, it is a great option for Americans who want to experience a unique pizza treat.
Indeed, more and more people troop to Blaze Pizza for its deliciously-created handmade pizzas, fresh salads, orange lemonade drinks and delectable s'more pies. The restaurant is not like any other typical pizza parlor in that it features a sort of an assembly line that allows guests to create a pizza according to its own taste.
Customizing a pizza, an option available at a low price, is allowed on even the pizzas listed on its menu, which means guests can add or exclude any or some of the ingredients. As a guest finds himself in the assembly line area, he is greeted with a great variety of 100% fresh, artisanal ingredients, all of which are selected as the ingredients best to be added to the Blaze Pizza.
When everything – meat, vegetables, garnishes, cheeses, and sauces – are already laid in, the 11-inch pizzas are then placed inside the super-hot open-flame oven. From within this center piece equipment of the restaurant comes out the final product, a delicious menu or customized thin-crusted pizza that customers will surely love. The restaurant's pizza makers see to it that all pizza items are totally fast-fired, which means that in as fast as 3 minutes, it is ready to fly out of the kitchen and into everyone's table.
Guests are assured that every restaurant uses fresh dough that's made from scratch day after day. A dough recipe was developed for Blaze Pizza by renowned Executive Chef Bradford Kent, also known as the Pizza Whisperer. Ingredients are kept a secret, although Chef Kent made it known that the dough requires a whole day to be fully fermented to be able to achieve the pizza's signature ultra-light and crisp crust. There is a pizza for everyone at Blaze, even for those with special dietary requirements, since the restaurant offers 100% gluten-free dough and vegan cheeses.
Of course, Blaze doesn't have the monopoly of serving great pizzas and receiving industry awards. Many others in the market deserve accolades for making fine pizzas, and two that qualify are Stevi B's and Pizza Express. In fact, both restaurants have been following the trail of the award-winning pizza joint and hope that they are able to receive similar titles and recognitions that Blaze currently enjoys.
Both pizza joints deserve a spot at the list of top 100 movers and shakers in the pizza industry if only because of their strong desire to succeed and clear innovativeness to produce the new pizza items while maintaining the superior quality of their existing ones, to the full advantage of pizza lovers.
Another great pizza chain in the making is the Pizza Express, which carries the strong commitment of serving only the best and freshest pizza to its guests. The highest quality flour, best cheeses, and most delicious toppings are used to create its pizzas – and this is done in a consistent way to ensure that customers keep coming back for more. Pizza Express deserves to be in the list of Top Movers and Shakers, and it may well be on its way there, considering the excellence that it shows in all aspects of making and delivering pizzas.
Stevi B's is much like Blaze Pizza since it ensures that the best pizzas are served to its customers every day. Everything starts from scratch, and every ingredient, from the cheese down to the meat and vegetable toppings and sauces are 100% fresh and of the highest quality. No wonder this pizza joint has been a recipient of similar food industry awards such as one of the Top Ten Franchise Deals by QSR Magazine. It is also ranked highly in 2012 as one of Entrepreneur Magazine's Franchise 500.